Oklahoma Statewide Shared Nuclear Magnetic Resonance Facility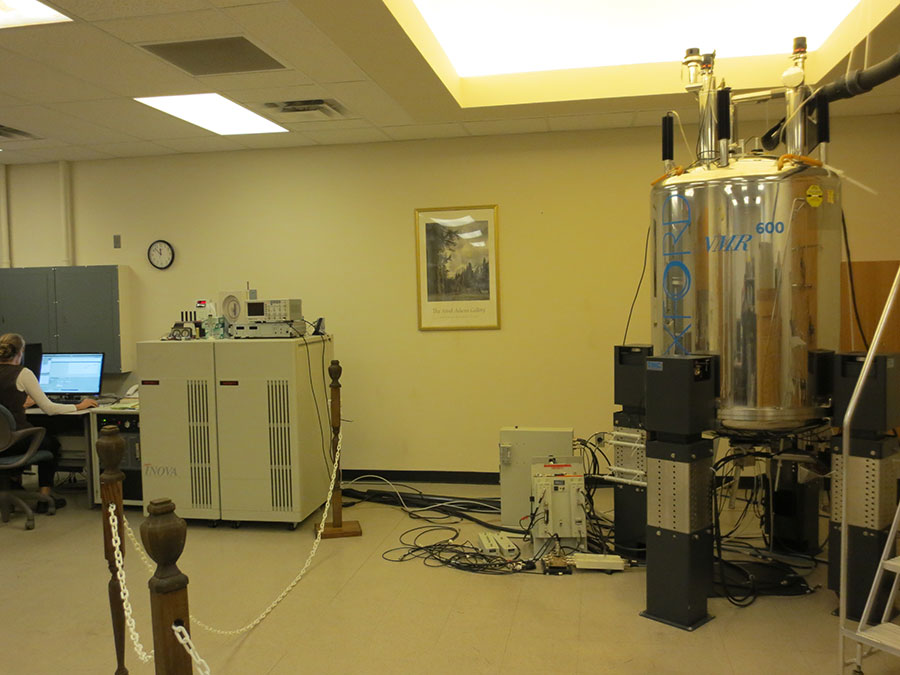 The Oklahoma Statewide Shared Nuclear Magnetic Resonance Facility provides a diverse array of magnetic resonance research capabilities for routine and advanced analysis of both solutions and solid-state samples.

The facility is home to four spectrometers, two with 400 MHz magnets mainly for acquisition of spectra of liquid-state samples, one dedicated 300 MHz solid-state spectrometer, and one 600 MHz spectrometer outfitted for both liquids and solids.


On the A400, a sample changer allows for walk-up solution state analysis of 1H, 13C, 31P, and 19F as well as advanced techniques. On both the A400 and I400 a multi-use probe (SmartProbe, OneNMR Probe) designed for both direct and indirect detection permits a variety of 2D techniques for molecular structure determination (e.g. COSY, NOESY, HSQC, HMBC, TOCSY) of molecules in solution.

Instruments in the facility are available to all academic, research, or commercial users. The facility is located in the Department of Chemistry, Physical Science Buliding.

Funds for the Oklahoma Statewide Shared NMR Facility equipment and facilities obtained in 1996/1997 were provided by the National Science Foundation, EPSCoR, the Oklahoma State Regents for Higher Education, the W.M. Keck Foundation, and Conoco, Inc. The Avance 400 spectrometer, installed in 2013, was purchased with a grant from the OSU Vice President for Research, who has also generously supported several vital upgrades over the years.